Rain Chain Installation Services for North Creek
A rain chain is a unique addition to your North Creek, WA homՒs rain gutter system. When functioning well, a rain chain in North Creek offers a pleasant sound as rainwater flows down through it.
JS Contracting is a reputed company that has been offering a wide range of gutter products, including rain chains and gutter chains, since 1978. We make certain to know your needs to provide you with the best rain chain to complement your North Creek property. In addition to providing quality rain chains, we offer services to install your rain chain in North Creek. We offer:
Affordable service to install your rain chain
Prompt responses to your needs to install your rain chain in North Creek
Installation services for your rain chain provided by skilled experts
A huge inventory of rain chains
Accurate installation of your rain chain
Rain Chains Are a Decorative Addition to North Creek Gutters
When it comes to enhancing the look of a property while allowing rain water to move off of the roof, gutter chains and rain chains in North Creek are the ideal option. Rain chains in North Creek are enormously popular among residents owing to their following benefits:
Rain chains prevent soil erosion
Rain chains help store rain water
Rain chains are available in different styles
Rain chains are easy to install
Rain chains are affordable
We offer functional rain chains for North Creek homes that are best for water flow, even in heavy rains. Our gutter chains and rain chains in North Creek are built from quality materials and can add instant beauty to your home.
Gutter Chains in North Creek - Available in Cup or Link Styles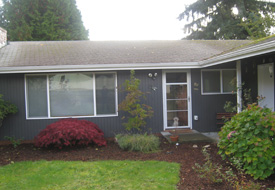 Gutter chains in North Creek are available in a plethora of options. Whether you need a copper rain chain or aluminum gutter chains, we will help you find one that suits your style and needs.
We give you access to our massive collection of gutter chains in North Creek, varying in styles, prices and materials. After analyzing your property, we will help you choose a rain chain that merges with your landscaping and enhances the beauty of your home. We offer:
Easy to maintain gutter chains for North Creek
Gutter chains that allow controlled water flow
Unique designs of gutter chains North Creek
Link and cup style gutter chains
A broad selection of beautiful gutter chains
To choose from multiple gutter chains and rain chains, North Creek residents can call JS Contracting at 253-220-6970. We also offer services to precisely install your rain chain.