Downspouts Are The Most Effective Way to Flow Rainwater From Your Home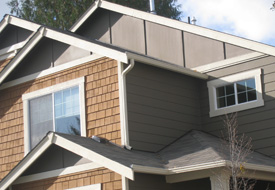 Downspouts are pipes that attach to your gutters and run along the outer wall to channel rainwater from the roof to the ground. Most homeowners think that installing downspouts to their homes is not a priority.
But it is important to understand that, without proper downspouts in your Woodinville, WA home, rainwater will run down the exterior walls and cause damage to your home.
The benefits to the installation of downspouts in your Woodinville home include:
Directing water away from your house
Protecting your house from rain storm
Preventing staining of the siding or paint
Improving the curb appeal of your home
At JS Gutters, we are fully experienced in downspout installation. Our downspout installation will ensure that your home is kept safe and dry, regardless of the weather conditions.
Do Not Let Downspout Drainage Decrease Your Woodinville Home Value, Call Us!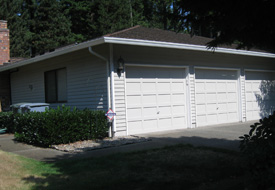 If your downspouts are not installed properly or do not have the right angle away from your home, you could experience problems such as leaks. Downspouts can also become clogged from leaves and debris, leading to inefficient downspout drainage.
It is important to have your downspouts checked regularly so that you can avoid downspout drainage problems in your Woodinville home.
Downspout drainage is our specialty. We can evaluate the condition of your downspouts and recommended the best solution to ensure proper downspout drainage for your Woodinville home.
We would be happy to inspect your home's exterior and come up with a downspout drainage plan to collect and drain excess water away from your walls, siding, and foundation.
Our features include:
A professional, courteous team
Expert recommendations
FREE estimates
Downspout Installation Down To A Perfect Science in Woodinville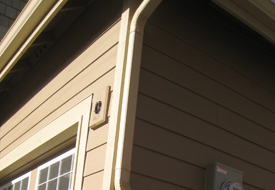 We have made a name for ourselves as the downspout installation company to call for new downspouts in the Woodinville area. With years of experience, you will not find a better company than us to install your downspouts in Woodinville.
We are proud to offer the highest quality downspout installation services at some of the best prices. With dependable quality, great rates, and a dedication to customer service, we get the downspout installation job done to your complete satisfaction.
Let us protect your home from unnecessary water damage with high quality downspout installation. You should hire us to install downspouts in your Woodinville home to ensure:
Rapid response
Convenient scheduling
Minimal disruption
If you are looking to install downspouts in your Woodinville home, call JS Gutters today at 253-220-6970. We would love to serve you!